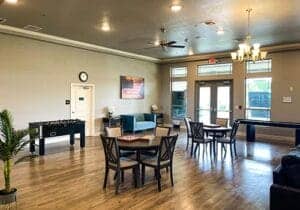 Overcoming addiction and achieving recovery is difficult. Many things can serve as obstacles to the recovery process. Mental health issues, relapse triggers, and unpleasant withdrawal symptoms can all get in the way. A detox program is the best way of beginning your treatment experience and can help lay a solid foundation for successful long-term recovery. A detox treatment program provides a safe environment with professional medical care and emotional support where you can focus entirely on your recovery.
At Virtue Recovery Killeen, we provide comprehensive medical detox services tailored to the client's needs. Our medical detox team of experienced, licensed physicians, nurses, and clinicians understand the challenges detox presents. We provide 24/7 monitoring, care, and support to ensure the safety and well-being of our clients. Contact our team at 866.843.0545 to learn more about our addiction treatment services and how they can support your recovery.
The Importance of Medical Detox in Addiction Treatment
Medical detox is generally considered the best first step of addiction treatment among behavioral health specialists, and it is an integral part of successful recovery. Detoxification is the process of clearing all drugs or alcohol from your body. During this process, your body adjusts to being without the substance or substances it has become dependent on. This can cause physical and emotional withdrawal symptoms, ranging from mild to unpleasant to severe or even life-threatening.
Common withdrawal symptoms can include:
Tremors or shakes
Headaches
Anxiety
Sweating
Insomnia and disturbed sleep patterns
Nausea and vomiting
Depression
Mood swings
Cravings are one of the most common aspects of detox that can be quite difficult to overcome without the support of a professional treatment team. When substance use is stopped, the body will often crave it. This is the chief reason why attempting to detox on your own can be so difficult. At Virtue Recovery Killeen, our medical detox team provides the necessary support to help minimize cravings and ensure your detox is as comfortable as possible to give you the best chance of recovery.
What to Expect from Our Detox Treatment Program in Killeen, TX
When you enter our medical detox program, you'll complete an initial intake assessment with our medical team. This gives us the necessary information about your current physical and emotional health and any special needs you may have. We also factor in underlying mental health concerns and co-occurring conditions when designing treatment plans.
During detox, you can expect the following:
24/7 monitoring
Medication to manage withdrawal symptoms if deemed necessary
Meal planning and nutritional support
Therapeutic activities
Detox establishes a robust and solid foundation for addiction treatment. We'll provide the care and support you need. Detox usually lasts between five and seven days, but the program's duration depends on the client's specific needs and the substances they are overcoming.
Starting your recovery journey in a detox treatment program ensures that you have the support and guidance needed to create and maintain a life of sobriety. In other levels of care after detox is complete, such as partial hospitalization programs, you'll continue to build healthy coping skills and work through the root causes of your addiction.
Call Virtue Recovery Killeen to Learn About Our Medical Detox in Killeen, TX
At Virtue Recovery Killeen, we aim to create a supportive environment that empowers our clients to reach their recovery goals while meeting their recovery needs. We understand the challenges of addiction and detox, and we're here to help you break the cycle of addiction and enter lifelong recovery.
Take the first step toward recovery today by starting addiction treatment at Virtue Recovery Killeen. Contact us at 866.843.0545 or reach out online to learn more about our medical detox program and how we can help.