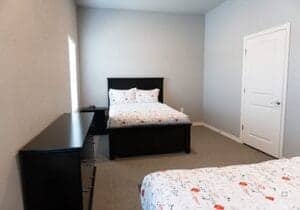 Virtue Recovery Killeen offers addiction treatment services customized for individuals who identify as men. We believe that addiction and substance use disorders (SUDs) can affect people from all walks of life, regardless of age, gender, or background. We provide personalized care in our men's rehab treatment services.
If you're a man struggling with addiction, Virtue Recovery Killeen can help you. Our men's rehab program in Killeen, TX, offers physical and mental care for successful treatment. Our team of experienced professionals is ready to provide support and guidance as you work toward recovery. Contact Virtue Recovery Killeen at 866.843.0545 today to learn more and take the first step towards lasting sobriety.
Are You a Candidate for Gender-Specific Addiction Care?
If you feel that addressing the specific factors associated with your gender would aid your recovery, then gender-specific addiction treatment might be ideal. This approach recognizes the unique challenges men and women face during their recovery journey and can offer a supportive environment for open communication and understanding among peers. Consider gender-specific addiction care if you think it would benefit your healing process.
Choosing a gender-specific addiction care program can be beneficial as it offers tailored therapeutic approaches that address issues like co-occurring mental health conditions and trauma that are more common in one gender compared to the other. This can improve your recovery experience and lead to better long-term outcomes by focusing on the unique aspects of your journey. At Virtue Recovery Killeen, the men's rehab program addresses issues specific to men, promoting lasting change and overall sobriety and wellness.
What to Expect from Our Men's Rehab Program in Killeen, TX
Our men's rehab program focuses on helping men overcome addiction and achieve long-term sobriety through a transformative journey. The program is designed specifically for male clients and offers a variety of evidence-based therapies to address their unique needs and challenges, including:
Group therapy
Cognitive-behavioral therapy (CBT)
Motivational Interviewing (MI)
12-step support groups
Relapse prevention therapy
Our program focuses on creating a robust peer support network that encourages open communication and teamwork. Our team, which is both caring and skilled, collaborates closely with each client to design a customized treatment plan that addresses the underlying causes of their addiction, equips them with healthy coping mechanisms, and handles any mental health conditions.
Within this secure and supportive environment, clients can regain control of their lives and create a solid basis for long-term recovery.
What to Expect from Our Addiction Treatment Services in Killeen, TX
Virtue Recovery Killeen provides specialized addiction treatment services for those in need. Our men's rehab program includes a range of services such as:
Medical detoxification
Psychiatric evaluation
Dual diagnosis treatment
Individual and family counseling
Our team takes a holistic approach to treatment and encourages healthy lifestyle changes, such as proper nutrition and exercise. We also provide ongoing support throughout the recovery process so that clients can continue on the path to sobriety even after leaving our program. Ultimately, it's our mission to provide men with a safe and supportive environment to share their experiences and recover successfully. Our team of experienced professionals works closely with clients to provide individualized care and support every step of the way.
Find a Men's Rehab Program in Texas at Virtue Recovery Killeen
If you think gender-specific addiction treatment can help you recover successfully, consider our men's rehab program in Killeen, Texas. Virtue Recovery Killeen offers personalized and compassionate care to individuals struggling with SUDs. We have different programs like luxury, executive, and professional to fulfill all clients' requirements. To begin your journey towards lasting sobriety, contact Virtue Recovery Killeen today through our online form or by dialing 866.843.0545.