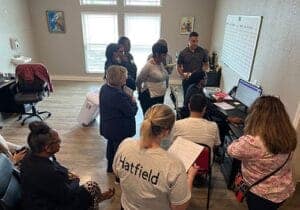 Welcome to Virtue Recovery Killeen, a leading provider of substance abuse treatment programs in Texas. Our experienced team of licensed professionals is dedicated to providing high-quality, compassionate heroin addiction treatment for individuals struggling with this type of substance use disorder (SUD). With our intensive outpatient program (IOP) and personalized heroin addiction services, we aim to help clients achieve and maintain long-term sobriety. Contact Virtue Recovery Killeen today at 866.843.0545 to learn more about our heroin addiction rehab in Killeen, TX, and how we can help you or a struggling loved one.
What Is Heroin?
Heroin is an illegal and highly addictive opioid drug derived from morphine. It is often used recreationally for its euphoric effects, which can quickly lead to dependence and addiction.
Developing Heroin Abuse Behaviors
Heroin abuse occurs when an individual uses the drug in more significant amounts or more frequently than prescribed or intended, leading to physical, mental, and social consequences. Heroin abuse often begins with experimentation or recreational use. Genetics, environment, and personal circumstances may also contribute to the development of heroin addiction.
Dangers of Heroin Abuse
Heroin abuse poses severe risks to an individual's physical and mental health. Some of the dangers associated with heroin addiction include:
Overdose, which can be fatal
Respiratory failure
Collapsed veins and infections from injecting the drug
Increased risk of HIV, hepatitis, and other bloodborne diseases
Severe withdrawal symptoms, making it difficult to quit
Mental health issues, including depression and anxiety
Damaged relationships, financial instability, and legal problems
As the body develops a tolerance to the drug, the user requires increasing amounts to experience the desired effects. This escalation can lead to a physical and psychological dependence on heroin, ultimately resulting in addiction.
Our Heroin Abuse Treatment Program at Virtue Recovery Killeen
At Virtue Recovery Killeen, our evidence-based heroin addiction treatment programs focus on addressing the root causes of addiction and helping clients develop healthy coping strategies for lasting recovery. Our comprehensive services include the following:
Medical detoxification – This is the first step of treatment and involves medically supervised withdrawal to help ensure a safe and comfortable detox process.
Treatment of co-occurring conditions – We provide dual diagnosis treatment for clients struggling with addiction and other mental health issues.
Individual therapy – Our licensed therapists will work with clients one-on-one to address underlying issues contributing to their behavior.
Group counseling – Clients will participate in structured group sessions that focus on topics related to addiction recovery.
Relapse prevention planning – We help clients create personalized relapse prevention plans to identify potential triggers and develop strategies to maintain sobriety.
Virtue Recovery Killeen provides a personalized heroin addiction treatment program that caters to the individual's specific needs and situation. Our treatments are based on evidence and informed by trauma to help individuals recover.
What to Expect from Addiction Treatment at Virtue Recovery
When you choose Virtue Recovery Killeen for your heroin addiction rehab, you can expect the following:
A thorough assessment to determine the best course of treatment for your unique needs
A customized treatment plan tailored to your specific circumstances
Access to a team of licensed professionals, including physicians, therapists, and counselors
Evidence-based treatment modalities designed to address the physical, mental, and emotional aspects of addiction
A supportive and compassionate environment focused on your well-being and long-term recovery
In Texas, we offer a luxury recovery program that includes medical detox and residential treatment for various substances, such as alcohol, heroin, meth, cocaine, marijuana, opioids, fentanyl, and prescription drugs. Virtue Recovery Killeen can provide you with the necessary tools to achieve long-term success in recovery.
Find a Heroin Addiction Rehab Program in Texas at Virtue Recovery Killeen
If you or a loved one is struggling with heroin addiction, don't wait any longer to seek help. At Virtue Recovery Killeen, our dedicated team is committed to providing the highest quality heroin addiction rehab in Killeen, TX. Take the first step towards a healthier, happier future by contacting Virtue Recovery Killeen today at 866.843.0545 to learn more about our comprehensive heroin addiction services and begin your journey to recovery.