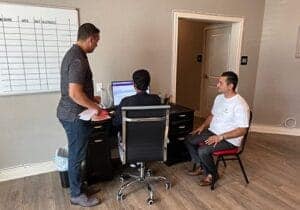 Motivational interviewing is a therapy technique that can help people dealing with addiction and mental health issues. It allows them to explore their mixed feelings and eventually make positive changes. It can be used alone or with other therapies, like 12-step programs or cognitive-behavioral therapy (CBT).
Virtue Recovery Killeen provides motivational interviewing treatment, which helps clients enhance their motivation for change. Our goal is to create a non-judgmental and collaborative therapy environment, allowing clients to talk about their goals and aspirations easily. For more information on how our addiction therapy services, including our motivational interviewing treatment services, can help your recovery, please contact Virtue Recovery Killeen at 866.843.0545.
How Can a Motivational Interview Help Clients?
Motivational interviewing is a counseling technique that inspires individuals to adopt positive behaviors. This approach involves helping clients overcome their insecurities and uncertainties to find the motivation and drive needed to initiate change. Through a motivational interview at a treatment center like ours, clients can identify their values and goals and determine the differences between their current actions and desired outcomes. This counseling method creates a safe and supportive space where clients can explore their thoughts and emotions. The approach empowers individuals to find their solutions, leading to a sense of autonomy and competence that can be transformative.
When implemented effectively, motivational interviewing can lead to long-lasting behavioral changes for individuals pursuing positive personal change. Our goal at Virtue Recovery Killeen is to assist clients in discovering their own inner and emotional strength to make positive changes and improve their overall well-being.
Our Motivational Interviewing Services
At Virtue Recovery Killeen in Texas, we provide personalized motivational interviewing services to cater to our clients' specific requirements. Our team comprises professionals with expertise in helping individuals grappling with addiction and mental health issues. We aim to establish a welcoming and supportive space where clients can safely examine their emotions and make constructive changes. In addition to motivational interviewing, we also offer other addiction therapy services, such as:
Cognitive-behavioral therapy
Equine therapy
Group therapy
Music therapy
Relapse prevention therapy
Trauma therapy
Yoga therapy
Our clients benefit from our compassionate and comprehensive treatment approach that covers all aspects of their life experience, giving them the necessary tools for a successful long-term outcome.
Are You a Candidate for Motivational Interviewing Treatment?
Motivational interviewing is a helpful treatment method for individuals who want to make positive changes but face difficulties with motivation or uncertainty. Remembering that this counseling approach revolves around the client and their active involvement for the best results is essential. Motivational interviewing therapy is beneficial for individuals who are:
Struggling with addiction or mental health conditions
Feeling ambivalent about making changes in their life
Seeking autonomy and self-efficacy in their recovery process
Unsure of how to move forward in their lives
Ready to address issues that may be preventing them from achieving personal goals
At Virtue Recovery Killeen, we provide personalized care to meet each client's unique needs. Our knowledgeable staff can assist you in discovering your values, goals, and motivations. We understand that everyone's experience differs, and we are devoted to delivering individualized support.
Find Motivational Interviewing Treatment in Texas at Virtue Recovery Killeen
If you are looking for addiction therapy services like motivational interviewing treatment, contact our Virtue Recovery Killeen team. Motivational interviewing treatment can help those who want to make positive life changes. Our team is dedicated to helping you discover the internal motivation required for long-lasting results. We are excited to assist you in finding hope and strength for a better future. Contact Virtue Recovery Killeen today at 866.843.0545 to begin your motivational interviewing treatment.