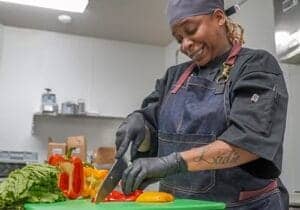 Residential treatment programs are an excellent option for people seeking thorough and continuous care during their recovery process. They offer a structured environment where individuals can acquire lifelong skills and benefit from medical professionals, counselors, peer support groups, and other resources. Due to their commitment to helping people achieve sobriety and managing mental health issues, these programs have gained popularity among those seeking addiction treatment at Virtue Recovery Killeen. To learn more about our addiction treatment services—including our residential program in Killeen, TX—and how we can help, contact Virtue Recovery Killeen today at 866.843.0545.
What Is a Residential Treatment Program?
A residential treatment program is a thorough and lengthy method of overcoming addiction. It involves round-the-clock assistance and a protective therapeutic setting. The program equips individuals with essential skills to live independently and attain complete recovery. The program can last 90 days to a year or even longer, depending on progress and personal requirements.
Individuals receive personalized treatment plans to address their unique needs and challenges, emphasizing leveraging their strengths to support sobriety and recovery goals. The objective of a prolonged residential treatment program is not only to manage addiction or mental health concerns but also to provide education on maintaining a healthy and productive lifestyle for the future. This involves recognizing triggers and utilizing coping mechanisms that prevent relapse and facilitate successful reintegration into society.
What to Expect from Our Residential Treatment in Killeen, TX
Our residential program in Killeen, TX, is aimed at offering a secure and immersive environment to clients dealing with mental health and substance use issues. It includes supervision, evidence-based therapies, peer support, and activities focusing on improving physical and emotional health. At Virtue Recovery Killeen, our residential treatment program promises several benefits.
A Customized Addiction Treatment Plan
The length is personalized according to each individual's requirements but generally lasts at least 90 days. Within this time, clients will receive encouragement to develop new skills for managing their behavior and forming healthier coping mechanisms.
A Variety of Evidence-Based Treatment Approaches
Our program involves creating personalized treatment plans for clients with the help of professionals. These plans aim to promote a comprehensive approach to recovery and offer round-the-clock support and may involve various methods, such as:
Cognitive-behavioral therapy (CBT)
Motivational interviewing (MI)
Relapse prevention therapy
Our programs allow clients to acquire essential life skills in a safe setting that encourages sobriety and helps them make positive changes.
A Supportive Community and Recovery-Focused Setting
At Virtue Recovery Killeen, we understand the complexity of struggling with substance use disorder (SUDs) and other mental health challenges. Clients can expect personalized care and a supportive community and atmosphere that motivates them to realize their maximum potential.
What to Expect from Our Addiction Treatment Services in Killeen, TX
A residential program offers a safe and supportive environment for people to recover from substance use and mental health issues. The staff provides continuous support throughout the participants' stay. The program focuses on building healthy habits for long-term sobriety or mental stability. On top of this, our addiction treatment services can help clients:
Work through challenging experiences
Examine triggers that could lead to relapse
Develop healthier coping mechanisms for triggers or difficult emotions
Our residential treatment program's longer duration offers more time for physical and psychological recovery. Participants can address the root causes of their addiction, such as childhood trauma, family dynamics, or unresolved conflicts. Moreover, it gives them more time to develop problem-solving strategies and learn to navigate difficult situations without resorting to unhealthy behaviors. This program also allows participants to practice newly learned behaviors in a safe and supervised environment before returning to their daily lives, helping them build self-confidence, emotional intelligence, and stress-management skills.
Find a Residential Treatment Program in Texas at Virtue Recovery Killeen
If you are committed and dedicated, you can achieve long-term recovery in a safe and supportive environment through our residential treatment programs. For more information about our addiction treatment services in Texas, contact Virtue Recovery Killeen online or call 866.843.0545.