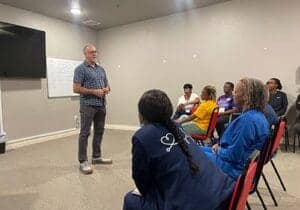 Virtue Recovery Killeen provides customized and comprehensive addiction treatment programs in Killeen, Texas, for individuals struggling with substance use disorders (SUDs) and other mental health conditions. Our nationally accredited treatment center provides a safe and supportive space for clients to recover from addiction and learn better coping mechanisms for life's difficulties. Our evidence-based addiction treatment and therapy services also address any underlying trauma.
Contact Virtue Recovery Killeen today at 866.843.0545 if you are ready to start your recovery journey. Let us help you find an effective program for achieving long-term sobriety and transforming your life and future. Our team is prepared to assist you.
Our Addiction Treatment Programs in Killeen, Texas
Our addiction treatment services cater to individual needs and recovery goals, as substance use-related behaviors can be complicated to address. We provide evidence-based addiction treatment programs to help individuals overcome their addictions, such as:
Gender-specific addiction treatment services provide a supportive, safe environment for clients to focus on their recovery. Clients struggling with co-occurring issues may need dual diagnosis treatment, as well. On top of these approaches, we also support addiction recovery through detoxification, and residential treatment. Your addiction treatment plan will be customized to meet your unique needs. We acknowledge that everyone's journey is distinct and we aim to empathize with everyone so they feel at ease and assisted while receiving our services.
Our Addiction Therapy Services in Killeen, Texas
Virtue Recovery Killeen offers addiction therapy services to assist those dealing with SUDs. Our services offer clients comprehensive support and direction in discovering the root causes of their addiction and developing healthy strategies to handle them in a safe and therapeutic setting. The addiction therapy services that we offer include the following:
Cognitive-behavioral therapy (CBT)
Eye movement desensitization and reprocessing (EMDR) therapy
Trauma therapy
Group therapy
Equine therapy
Relapse prevention therapy
Transcranial magnetic stimulation (TMS) therapy
We have clinicians and counselors who are empathetic and understanding to assist you in beginning your journey toward healing and wellness. We can help you overcome addiction and manage and heal from any diagnosed co-occurring mental health issues. It's possible to recover, and we can help you take the first step.
Benefits of Undergoing an Addiction Treatment Program
Getting help from an addiction treatment program can be critical to conquering substance abuse issues and taking back control of your life. Reliable professionals will provide a tailored plan in a structured atmosphere, with care geared toward addiction's physical, psychological, and emotional facets.
Typical addiction treatment programs use evidence-based therapeutic methods—including one-on-one counseling, group therapy, and even holistic treatments—to guide clients in the following:
Identifying the main reasons behind their addiction
Learning how to manage cravings
Building healthy coping mechanisms
Rediscovering self-worth and meaning in life
Avoiding future relapses
Virtue Recovery Killeen offers various addiction treatment programs and therapy services. These programs provide a secure and supportive environment to help individuals overcome addiction and regain control of their lives.
Find Addiction Treatment Programs in Texas at Virtue Recovery Killeen
At Virtue Recovery Killeen, our goal is to support your success and guide you through the initial stages of recovery. The proper addiction treatment program in Killeen, TX, can provide the guidance necessary to achieve your long-term recovery goals. We are here to assist you in pursuing a fulfilling life without addiction. We have faith in your ability to achieve sobriety and are committed to aiding you in that endeavor. When you are ready to take the next step to recovery and wellness, contact Virtue Recovery Killeen at 866.843.0545 or through our online form and ask about our addiction treatment services in Texas.