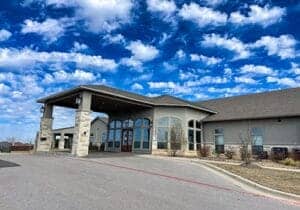 Welcome to Virtue Recovery Killeen, where our mission is to provide comprehensive, evidence-based addiction treatment to individuals in need. Our state-of-the-art treatment center, dedicated staff, and tailored programs are designed to help you achieve lasting recovery. To learn more about Virtue Recovery Killeen, contact us today at 866.843.0545 or reach out online for info on the programs and services we offer in Texas.
About Virtue Recovery Killeen
Virtue Recovery Killeen is a nationally accredited, trauma-informed treatment center in Killeen, Texas. Our luxury program offers a full continuum of care, including medical detox and residential treatment. We treat individuals suffering from alcohol, heroin, meth, cocaine, marijuana, opioids, fentanyl, and prescription drug addictions, focusing on long-term recovery success.
At Virtue Recovery Killeen, addiction treatment involves healing the mind, body, and spirit for a complete and lasting recovery. Our treatment center features:
Executive chef-prepared meals
State-of-the-art amenities
A low staff-to-client ratio
An on-site gym
Private and semi-private rooms
Along with a team of compassionate and experienced professionals, these ensure your stay is as comfortable as possible.
Our Addiction Treatment Programs
Our addiction treatment programs are custom-tailored to meet each individual's unique needs and circumstances. We offer a range of services, including:
Medical detox – Safely and comfortably manage withdrawal symptoms under the supervision of our experienced medical staff.
Residential treatment – Receive around-the-clock care and support in our beautiful, serene treatment center.
We help individuals struggling with addiction to alcohol, benzos, cocaine, and opioids like heroin and fentanyl. We also specialize in dual diagnosis treatment, simultaneously addressing addiction and any co-occurring mental health conditions.
Our Veteran Treatment Programs
At Virtue Recovery Killeen, we recognize veterans' unique challenges when dealing with addiction. That's why we offer specialized treatment programs specifically designed for veterans. Our programs are covered by the United States Department of Veterans Affairs (VA) and are tailored to address the underlying trauma often accompanying military service.
Our Therapy Services
Our therapy services play a crucial role in the recovery process at Virtue Recovery Killeen. We utilize evidence-based, trauma-informed treatment modalities to help individuals heal from addiction. Our therapy services include the following:
One-on-one counseling – Work closely with a dedicated therapist to address your unique needs and develop a personalized treatment plan.
Group therapy – Connect with peers who share similar experiences and support each other through recovery.
Psychoeducation – Learn about the science of addiction and develop strategies for maintaining long-term sobriety.
Neurocognitive treatment – Enhance cognitive function and improve mental health through targeted therapies.
Our team of experienced professionals uses a variety of therapeutic approaches, such as cognitive-behavioral therapy (CBT), trauma-informed care, and more. Our team can also help individuals struggling with co-occurring conditions like anxiety and depression disorders, as dual diagnosis rehab treatment is an essential component of our holistic approach to care.
At Virtue Recovery Killeen, we believe recovery is possible for anyone and everyone. Our team will work with you to create a customized plan of care that meets your unique needs and helps you achieve lasting sobriety. We understand the effects of addiction can be life-changing, which is why Virtue Recovery Killeen addiction treatment provides comprehensive, compassionate, and effective treatment to individuals in need.
Find Substance Use Disorder Treatment in Texas at Virtue Recovery Killeen
At Virtue Recovery Killeen, we are dedicated to providing addiction treatment that helps individuals achieve lasting recovery. If you or a loved one are struggling with addiction in Texas, don't wait any longer to seek help. Contact Virtue Recovery Killeen today at 866.843.0545 or reach out online to learn more about how we approach addiction treatment and take the first step toward a brighter future.