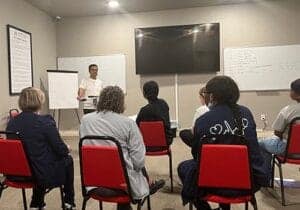 Welcome to Virtue Recovery Killeen, your leading meth addiction treatment center. We understand the difficulties faced by individuals struggling with substance abuse, and we are here to provide effective solutions.
Meth addiction in the United States has been growing rapidly. As a result, there is an urgent need to provide effective treatments for this condition. Our team of seasoned professionals is committed to providing personalized care and evidence-based treatments for individuals who struggle with meth addiction. We offer an individualized treatment program that includes medication management, counseling, group therapy, and other supportive services. At Virtue Recovery Killeen, we specialize in providing comprehensive treatment for meth addiction.
Our comprehensive treatment center has a substance abuse treatment program specifically designed to address the unique challenges of meth addiction. Contact us today at 866.843.0545 to speak with someone from our compassionate and experienced team about our meth addiction treatment program in Killeen, TX.
What Is Methamphetamine Abuse?
Methamphetamine is a powerful and highly addictive stimulant. When abused, it produces intense euphoria, increased energy, and heightened focus. However, the short-lived effects lead individuals to use the drug repeatedly, often resulting in addiction.
The dangers of meth use extend beyond addiction. Chronic users can experience severe physical health issues, such as:
Heart disease – Meth can increase your risk of stroke, heart attack, and other cardiovascular issues
Liver damage – Methamphetamine can cause considerable damage to the liver
Brain damage – Chronic use of meth can cause a decrease in cognitive functioning, memory problems, and depression
Skin disorders – Meth use can lead to severe skin conditions like acne and scabs
Furthermore, meth addiction can lead to significant mental health conditions, including anxiety, depression, and psychotic behaviors.
Our Meth Addiction Treatment Program at Virtue Recovery Killeen
Virtue Recovery Killeen's meth addiction treatment program can be tailored to address each client's unique needs. Our team of licensed professionals utilizes evidence-based treatment modalities, including:
Individual and group counseling – Our individual and group counseling sessions help clients explore the underlying causes of their meth addiction, learn coping strategies, and develop healthy habits.
Medication-assisted treatment (MAT) – Our MAT program utilizes medications such as buprenorphine to reduce cravings and withdrawal symptoms associated with methamphetamine use.
Relapse prevention planning – Understanding triggers can help individuals avoid relapse. Our relapse prevention planning sessions teach clients the skills to cope with temptations and maintain sobriety.
We understand that everyone's needs are different, so our meth addiction treatment center offers a variety of therapies, including cognitive-behavioral therapy (CBT), trauma-informed care, and motivational interviewing.
What to Expect from Addiction Treatment at Virtue Recovery
When you choose Virtue Recovery Killeen for treatment for meth addiction, you can expect compassionate care from our dedicated team. Your journey will begin with a thorough evaluation to understand your specific needs and design an individualized treatment plan. Throughout your treatment, you will participate in various therapies and activities aimed at helping you:
Understand the nature of your addiction
Develop coping strategies
Build a supportive network for ongoing recovery
Virtue Recovery also has treatment centers in other locations, such as Houston and even other states like Nevada. From the initial assessment through the end of your treatment, we are with you every step of the way, providing the tools and resources necessary for long-term recovery.
Find a Meth Addiction Treatment Program in Texas at Virtue Recovery Kileen
Overcoming meth addiction may seem daunting, but recovery is within reach with the proper support and treatment. At Virtue Recovery Killeen, we are committed to helping you reclaim your life from addiction. Do not wait another day if you or a loved one is struggling with meth addiction. Contact Virtue Recovery Killeen today at 866.843.0545 or reach out online to start your journey toward recovery.