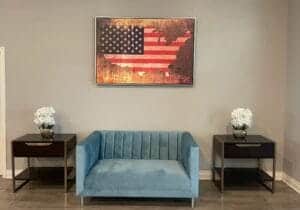 At Virtue Recovery Killeen, we provide a specialized veterans treatment program designed to address the unique challenges faced by veterans struggling with substance use disorders (SUDs). We understand that some veterans may feel judged or misunderstood when seeking help for addiction. Our program is compassionate and comprehensive, tailored to meet the individual needs of former service members struggling with SUDs. Our veterans addiction treatment center offers a wide range of services, such as individual counseling and group support, to help those in recovery learn new skills, form healthy relationships, and achieve greater satisfaction in life. Find out more about our veterans treatment services and other addiction treatment programs by contacting Virtue Recovery Killeen today at 866.843.0545.
What Is Veterans Treatment?
A veterans treatment program is intended to address the needs of ex-military personnel and give them the necessary assistance to attain a successful recovery.
What to Expect from Our Veterans Treatment Program in Killeen, TX
Our program offers personalized treatment plans tailored to meet each individual's needs. It incorporates evidence-based therapies, such as:
Cognitive-behavioral therapy (CBT)
Relapse prevention therapy
Family counseling
Recreational therapy
Trauma therapy
In addition, we provide integrated dual diagnosis treatment to those struggling with SUDs and other mental health conditions. We aim to assist ex-service members in leading a healthier lifestyle free from substance use by offering comprehensive support during recovery.
How Our Veterans Program for Addiction Treatment Works
Integrating back into civilian life poses unique challenges for veterans. These include deep trauma from combat or military events, significant differences between active duty and civilian life, and the possibility of relapse.
Virtue Recovery Killeen provides a safe and supportive environment for veterans who are in recovery. Our team of professionals is dedicated to helping individuals with the necessary tools to get back on track. Here are some reasons to choose our veterans treatment services:
Our services are designed specifically to meet the individual requirements of veterans.
Our therapies are based on proven and effective practices and are intended to assist military veterans in overcoming substance use disorders.
Our goal is to provide veterans with a nurturing atmosphere where they can develop positive relationships and acquire new skills.
We have experts who can create a custom treatment plan to help you achieve your short- and long-term goals. We are here to provide support and guidance as you begin your journey towards recovery.
Benefits of Undergoing Substance Use Disorder Treatment
Seeking addiction treatment may be challenging, but we believe it's worth it at Virtue Recovery Killeen. Our veterans addiction treatment center offers several benefits for those who participate, including:
Better relationships with family and friends
Improved mental and physical health
Increased self-confidence
The ability to cope with life's everyday stressors without turning to drugs or alcohol
The satisfaction of seeing goals become a reality
Our team of professionals is compassionate and ready to answer any questions you have on your journey toward lasting wellness. We are here to provide the support you need and help you get started on the path to sobriety.
Find a Veterans Treatment Program in Texas at Virtue Recovery Killeen
Our mission at Virtue Recovery Killeen is to provide unwavering support to veterans struggling with addiction. We acknowledge how challenging it is for ex-military personnel to come forward and ask for assistance, so we strive to foster a safe and empowering atmosphere during treatment. If you're a veteran who needs help with a substance use disorder, our team of professionals can provide you with a customized treatment program to help you reach your recovery goals. To learn more or to schedule an appointment, contact Virtue Recovery Killeen today at 866.843.0545 or fill out our online form.