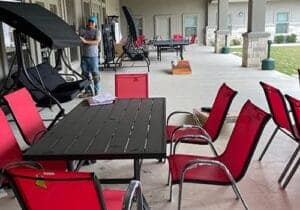 Seeking a drug detox center in Killeen, Texas, is not so complicated. However, most people starting their journey to recovery might not know what to look for in drug detox services or where to begin. At Virtue Recovery Killeen, we aim to offer support and guidance to make this process less daunting for our clients. If you or a loved one might be in need of a substance abuse treatment program that offers detox for drugs, reach out to us today via 866.843.0545 to discuss your options.
Understanding Drug Detox
When undergoing detox for drugs, the side effects will vary depending on what drug you're detoxing from. However, some common side effects to prepare for may include:
Mood changes such as mood swings, anxiety, depression, or irritability
Body changes such as flu-like symptoms, shaking, nausea, and headaches
Cravings for the drug you may be trying to quit
Drug detox refers to the process of ridding a substance from the body. Professional drug detox centers will use a set of interventions, such as medications and therapies, to help safely manage the side effects that may come from quitting drugs.
Finding the Right Drug Detox Center in Killeen, TX
Drug dependencies and substance use disorders (SUDs) are serious medical conditions that require professional treatment. Luckily, there are a number of drug detox services available across the country dedicated to supporting those struggling in finding necessary treatment. Drug detox services will vary depending on the location and other contributing factors. However, finding the right drug detox program is incredibly important.
Finding the right rehab for you specifically will increase the chances of successful recovery. But how do you know what the right program for you looks like?
Pinpoint Your Specific Goals and Needs
Knowing what your specific goals and needs are will make the process of finding a drug detox center significantly less stressful. Different strategies work better for different people and treatments. When considering detox for drugs, the first step should be to consider what your goals and needs are. Once that is over with, you'll be prepared to start treatment knowing what you want to achieve.
When thinking about your goals for drug detox treatment, it's necessary to identify which substances and behaviors you're trying to recover from. While this might sound obvious, there are some substances or behaviors that you might think are less dangerous that are actually contributing to the problem.
It's also important to know whether or not you have underlying conditions, such as medical conditions or mental health disorders, that would be convenient and beneficial to treat at the same time.
It would also be beneficial to outline what success looks and feels like for you. For some, their initial goal is to detox and only stay sober for a short period of time. For others, a residential stay might be necessary for their chances of recovery. Making a decision that is best for you or your loved one will give you higher chances of a safe, successful recovery.
Drug Detox Services at Virtue Recovery Killeen
Detoxing from drugs is the first step in your journey to recovery. Make sure that you do it safely, with medical supervision. At Virtue Recovery Killeen, our team is prepared to support you and help you detox while figuring out your goals for recovery. Reach out to one of our treatment professionals today via 866.843.0545 or contact us online.