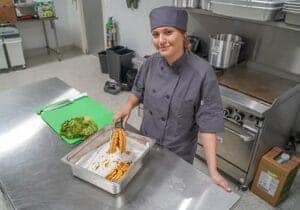 Virtue Recovery Killeen offers a women's rehab program in Killeen, TX, to help women overcome substance use disorders (SUDs) and achieve lasting recovery. Our program acknowledges that SUDs have different effects on individuals and provides customized addiction treatment services to meet each woman's specific needs. Contact Virtue Recovery Killeen at 866.843.0545 to learn more about our addiction treatment services and how we can assist you.
Are You a Candidate for Gender-Specific Addiction Care?
Women face many roles and responsibilities, which can make it hard to prioritize their recovery. Women are also more prone to stress, trauma, depression, or anxiety, which can lead to substance use. Programs exclusively for women provide a supportive environment where participants can share their experiences without fear of judgment or stigma from male peers or staff members. These programs often offer a variety of women's rehab treatment services to address the complex needs of female clients, such as:
Individual and group therapy
Cognitive-behavioral therapy (CBT)
Motivational interviewing (MI)
Dual diagnosis treatment
Trauma-informed care
In addition, they offer guidance on preventing relapse and handling situations that can cause drug and alcohol use. Treatment explicitly tailored to each gender is crucial in providing well-rounded and complete care for women struggling with addiction.
What to Expect from Our Women's Rehab Program in Killeen, TX
Our women's rehab program at Virtue Recovery Killeen provides a unique method to address addiction and mental health concerns. Our program includes therapy, support groups, and other services aimed at helping women establish a solid base for their recovery. If you enroll in our women's rehab program in Killeen, TX, you can anticipate these services being available.
A Customizable Addiction Treatment Program
To make the most of your experience, it's best to have a tailored treatment plan that meets your specific needs and goals. Virtue Recovery Killeen has multiple customized detox and addiction treatment programs for people struggling with different SUDs. We also provide co-occurring disorder treatment that can help you address your mental health and underlying causes for your addiction.
A Recovery-Focused Environment
The services provided will cater to the needs of female clients in a gender-aware environment. Trained clinicians and counselors will use trauma-informed techniques to address past traumas or addiction-related mental health concerns.
A Supportive Community
Our rehab program for women emphasizes building a supportive community for our female clients. The program includes therapy groups and activities that are specifically designed to encourage connections between clients and educate them about self-care. Women who are in treatment and recovery can bond over shared experiences and gain insights from each other's journey.
What to Expect from Our Addiction Treatment Services in Killeen, TX
Women seeking recovery can benefit from gender-specific addiction treatment programs that offer a unique and helpful environment. The programs provide significant advantages such as:
Increased self-esteem and confidence
Nonjudgmental and comfortable environment
Therapies tailored specifically for men or women
Access to medical care focused on men's or women's needs
Gender-specific addiction treatment programs provide women with personalized care for recovery and long-term sobriety. The same can be said for programs specifically created for men struggling with SUDs. These programs have a team of experts who offer guidance and support throughout the process, enabling people to find peace, healing, and sustainable recovery.
Find a Women's Rehab Program in Texas at Virtue Recovery Killeen
Incorporating women's rehab treatment services into customized treatment plans can help address the unique needs of women and increase the chances of successful long-term recovery from addiction. If you're interested in specialized addiction treatment for women, please reach out. You can get more information about our rehab programs by contacting Virtue Recovery Killeen today at 866.843.0545 or filling out our online contact form.